Superstition
An Open Door for Evil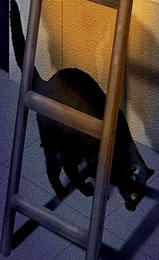 A good example of superstition comes from advice given on the Internet to those seeking spiritual protection from evil spirits on Halloween. According to one superstitious source, "If you want to prevent a ghost from coming into your house on Halloween, bury animal bones near the front door. If that doesn't work, you should walk around your home three times before sunset to ward off evil spirits. And if you hear footsteps behind you on this night, don't look back, it may be the dead following you."1
By accepting superstitious beliefs, a person can open a door to demonic spirits, giving those sprits permission to enter that person's life. After giving divine assent to a superstitious belief, a man or woman may even start to imagine what a dead person would sound like. Soon, that person may become so sensitive to the slightest noise that he or she becomes terrified to look back. Before long, a controlling spirit of fear may have those people running for their lives, yet if they would simply turn around, they would quickly discover that it was all a deception.
Other forms of superstition that commonly affect Catholics include numerology. For example, if prayer cards are sold in set of ten, a superstitions person may want to purchase 33 copies because the number three represents the Blessed Trinity. Another example comes from the Saint Benedict medal that needs to be buried underground to ward off evil spirits. According to one Catholic website, the Saint Benedict medal contains supernatural powers to "cure bodily ills and protect against contagious diseases. In time of storms, tempests and other dangers on land and sea it has been found to be a protection."2
Although there is nothing superstitious about sacramentals, serious problems arise when Catholics use sacramentals the same way that New Age practitioners use talisman and amulets. Because all protection comes from God—not from religious objects or any other type of superstitious beliefs—it's important to realize that God has already given us all the protection that we need. According to the Catechism of the Catholic Church in section 336, "Beside each believer stands an angel as protector and shepherd leading that person to life. From its beginning until death, human life is surrounded by their watchful care and intercession."3
Not only are all Christians surrounded by God's angelic army, but Jesus has given his followers power over all the works of the enemy. According to Luke 10:17, after Jesus sent seventy men and women forth on their first missionary assignment, they returned with great joy, saying, "Lord, in your name even the demons submit to us!" Jesus responded to them in Luke 10:19, by saying, "See, I have given you authority to tread on snakes and scorpions and over all the power of the enemy; and nothing will hurt you."
This same power that was given to these men and women has also been given to all believers; all we need to do is put our trust in God, and start using our authority in Christ. According to the Book of Romans, "If God is for us, who is against us? Who will separate us from the love of Christ? Will hardship, or distress, or persecution, or famine or nakedness, or peril, or sword? No, in all these things we are more than conquerors through him who loved us."4
Our heavenly Father wants all of his beloved children to enter into a deep and personal relationship with him. He wants your complete trust and obedience. He wants you to fall into his loving arms just like a little child. Your Abba Father is calling you right now. Jesus has all the power and protection that you need.
Scripture Passages to Set the Captives Free
"Truly I tell you, unless you change and become like children, you will never enter the kingdom of heaven." — Matthew 18:3
"God is love, and those who abide in love abide in God, and God abides in them. There is no fear in love, but perfect love casts out fear; for fear has to do with punishment, and whoever fears has not reached perfection in love." — 1 John 4:16, 18
"For all who are led by the Spirit of God are children of God. For you did not receive a spirit of slavery to fall back into fear, but you have received a spirit of adoption. When we cry, 'Abba Father!' it is that very Spirit bearing witness with our spirit that we are children of God, and if children, then heirs, heirs of God and joint heirs with Christ." — Romans 8:14–17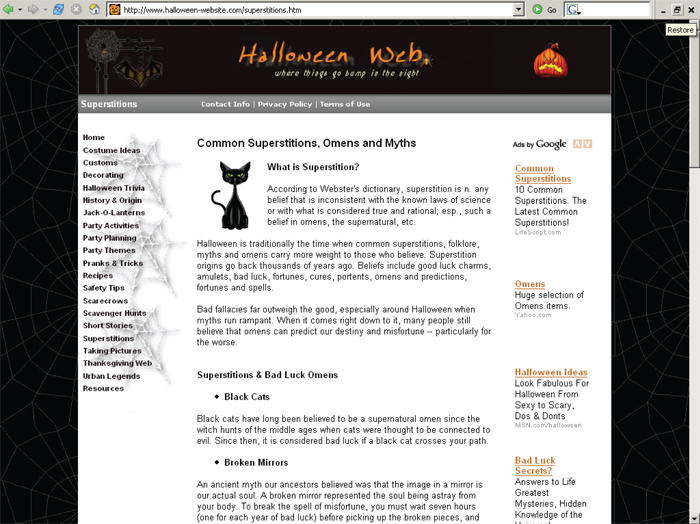 For more information please visit Horoscopes - An Alluring Way to Begin the Journey.
Notes
The Scripture quotations contained herein are from the New Revised Standard Version Bible: Catholic Edition copyright © 1993 and 1989 by the Division of Christian Education of the National Council of the Churches of Christ in the U.S.A. Used by permission. All rights reserved.
Excerpts from the English translation of the Catechism of the Catholic Church for use in the United States of America, © 1994, United States Catholic Conference, Inc.—Libreria Editrice Vaticana. English translation of the Catechism of the Catholic Church: Modifications from the Editio Typica copyright © 1997, United States Catholic Conference, Inc.—Libreria Editrice Vaticana. Used with permission.
Old Superstitions website: http://www.oldsu p erstitions.com
Holy Images website, Saint Benedict Medals: http://holy-images.com/medals_benedict.htm
Catechism of the Catholic Church: 336; Cf. Mt 18:10; Lk 16:22; Ps 34:7; 91:10–13; Job 33:23–24; Zech 1:12; Tob 12:12, St. Basil, Adv. Eunomium III, 1: PG 29, 656B.
Romans 8:31, 35, 37.
Halloween Web, Where Things Go Bump in the Night: http://www.halloween-website.com/superstitions.htm