La Santa Muerte




Spiritual Protection for Criminals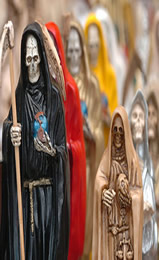 Another example of idolatry comes from La Santa Muerte, a religious icon from Mexico that resembles the Grim Reaper. For decades, thousands of Mexico's poorest neighborhoods have prayed to Santa Muerte for life-saving miracles. Although Santa Muerte remained relatively unknown for many decades, in recent years, devotion to this cult has exploded with over ten million devotees throughout Central America and in some part of the United States.
Santa Muerte's popularity and miracle-working powers have increased in recent years due to the growing number of satanic sacrifices performed by drug cartel members, kidnappers and other criminals who pray to Santa Muerte for protection. When a criminal wants to commit a crime (and that person doesn't want to make a pact with the devil or ask God for protection), the popular alternative is now Santa Muerte, because according to her followers, she is a "non-judgmental saint who can be invoked for some not-so-holy petitions."
The problem for Catholics who pray to Santa Muerte is that this religious cult has nothing to due with the Catholic Church. Santa Muerte is not in heaven and Saint Death is not even a real saint. According to the Catechism of the Catholic Church, the word saint is defined as a man or woman "who leads a life in union with God through the grace of Christ."1 Because all baptized and confirmed Catholics who are striving for holiness are already considered by the Church to be saints, the Catechism of the Catholic Church in section 823 says, "The Church, then, is the holy People of God, and her members are called saints."2
Not only is Santa Muerte not a real saint, but only a satanic personification of death, it has been linked to drugs dealers, prostitution, kidnappings and homicides by Mexican law enforcement. For example, in Sonora, Mexico, two young children along with a 55-year-old woman were beheaded in a religious ceremony dedicated to Santa Muerte. In response to Saint Death's growing power and popularity among drug dealers, the Mexican government, under President Felipe Calderon, declared Santa Muerte an "enemy of the Mexican State" and ordered the army to bulldoze dozens of Santa Muerte's shrines in 2012.3
The Catholic Church has also issued strong condemnations against Santa Muerte in recent years. For example, on November 3, 2008, the Archdiocese of Mexico City issued a statement saying, "Devotion to the so-called Saint Death is not compatible with the Catholic faith."4 Cardinal Gianfranco Ravasi, President of the Pontifical Council for Culture in the Vatican has also called for the Church to stop the spread of the so-called Santa Muerte devotion because it is nothing more than a "celebration of devastation and of hell."5

Although the Catholic Church has issued several warnings against Santa Muerte, once Catholics start praying to this religious icon (making agreements with the devil through the sin of idolatry), it is very difficult for those people to break free. A good example of Santa Muerte's control comes from Father Andres Gutierrez from Saint Helen's parish in Rio Hondo, Texas, who has witnessed many people from his parish community who have "suffered greatly" following a devotion to Santa Muerte.6
Father Marco Mercado of Good Shepherd Catholic Church in Chicago, Illinois, also continues to warn his parishioners by saying, "This is Santeria—it's not good! It's not at all connected with the Catholic faith." Unfortunately, many of Good Shepherd's roughly 3,000 parishioners have ignored Father Mercado's calls to destroy their Santa Muerte statues, candles and prayer cards, fearing that if they do, the Grim Reaper will bring a sudden death to their friends and family members.7
Scripture Passages to Set the Captives Free
"Little children, keep yourselves from idols." — 1 John 5:21
"Have you not read what was said to you by God, 'I am the God of Abraham, the God of Isaac, and the God of Jacob'? He is God not of the dead, but of the living." — Matthew 22:31–32
"Do you not know that wrongdoers will not inherit the kingdom of God? Do not be deceived! Fornicators, idolaters, adulterers, male prostitutes, sodomites, thieves, the greedy, drunkards, revilers, robbers—none of these will inherit the kingdom of God." — 1 Corinthians 6:9–10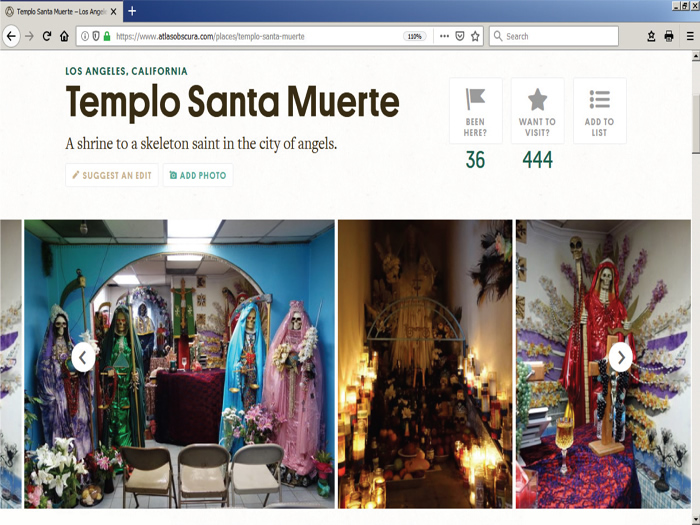 For more information please visit Santeria - The Way of the Saints.
Notes
The Scripture quotations contained herein are from the New Revised Standard Version Bible: Catholic Edition copyright © 1993 and 1989 by the Division of Christian Education of the National Council of the Churches of Christ in the U.S.A. Used by permission. All rights reserved.
Excerpts from the English translation of the Catechism of the Catholic Church for use in the United States of America, © 1994, United States Catholic Conference, Inc.—Libreria Editrice Vaticana. English translation of the Catechism of the Catholic Church: Modifications from the Editio Typica copyright © 1997, United States Catholic Conference, Inc.—Libreria Editrice Vaticana. Used with permission.
Catechism of the Catholic Church, glossary p. 898.
Catechism of the Catholic Church: 823, Acts 9:13, 1 Cor 6:1, 16:1.
"Santa Muerte: The Saint of Death That The Vatican Tried To Shut Down" (December 9, 2018): https://allthatsinteresting.com/santa-muerte.
"Santa Muerte is No Saint, Say Mexican Bishops" (Spero News, October 31, 2009): http://banderasnews.com/0811/edat-santamuerte.htm.
Catholic News Agency, "Have you heard of Saint Death? Don't pray to her." (November 4, 2017): https://www.catholicnewsagency.com/news/have-you-heard-of-saint-death-dont-pray-to-her-38884.
Ibid.
"Santa Muerte: The New God in Town" (Time, October 16, 2007): http://www.time.com/time/nation/article/0,8599,1671984,00.html.
"Templo Santa Muerte," https://www.atlasobscura.com/places/templo-santa-muerte.