Suffering Vows
To Become a Victim Soul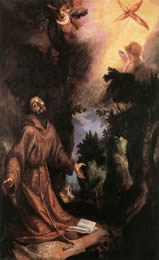 Along with the growing number of false apparition sites comes another unhealthy devotion in which Catholics have been making vows to become "victim souls." A good example of a victim soul comes from the life of Maria Valtorta, an Italian invalid who wrote The Poem of the Man-God.
According to Maria's biography, on January 28, 1925, Maria offered herself as a "victim soul" to the Merciful Love and renewed her vows to suffer every day thereafter. She later offered her life as a "victim soul" to the Divine Justice, and soon she found herself unable to walk without experiencing "extraordinary fatigue." This condition continued until 1933, when she was unable to leave her house, and a year later, unable to leave her bed.
During this time, Maria wrote more than fifteen thousand pages that were dictated to her by various spiritual entities. Her handwritten pages were then compiled into a five-volume series entitled, The Poem of the Man-God. On December 16, 1959, the Holy Office examined The Poem of the Man-God and condemned it, recommending that it be placed on the Index of Forbidden Books. The condemnation was signed by Pope John XXIII and published in L'Osservatore Romano on January 6, 1969, along with an article entitled "A Badly Fictionalized Life of Jesus."1
If the spiritual entities that were operating under the name "Merciful Love" and "Divine Justice" were coming from God, then Maria's condition of suffering would be a great act of martyrdom. The problem is that the spiritual entities who accepted her suffering vows also delivered 15,000 pages of messages that were full of serious theological errors and heresies that needed to be condemned by the Catholic Church. Because God would never send his angles or saints to deliver false messages, it's safe to assume that the spiritual entities who confined Maria to her bed were not coming from God.
Another example of unhealthy suffering vows comes from the life of Julia Kim, a locutionist from Naju, Korea. After experiencing serious health problems, along with several unsuccessful surgeries, Julia was diagnosed with cancer and made a decision to end her life by taking cyanide. Before she could fulfill her death wish, her husband took her to a priest. After hearing Julia's story, the priest consoled her by saying that her sufferings were blessings from God. Afterwards, Julia wanted to "live a life of suffering" for the Lord.2
After taking formal "suffering vows," Julia began to receive extreme pain, as well as miraculous signs and wonders from these entities. Instead of attacking her body with more health problems, the spiritual entities who had accepted her suffering vows started delivering messages and producing all kinds of strange phenomena that produced a great deal of blood. For example, on September 22, 1995, when Julia received Holy Communion, the host started bleeding in her mouth.3
After conducting an extensive investigation, the Archbishop of Kwangju, Victorinus Kong-Hee Youn, declared that visions and various strange phenomena emanating from Julia's body "produce no evidence which proves they are truly supernatural and thus from God." He thereby directed that publication or dissemination of material on the Naju events was "officially forbidden," and called on Catholics to refrain from reading such material.4
If the entities that were producing the strange and bloody phenomena in Julia's body were coming from God, then the messages would not be filled with serious theological errors that needed to be condemned by the local Bishop. Because God would never send his angels or saints to deliver false messages, it's safe to assume the spiritual entities that were producing the strange and bloody phenomena in Julia's body were not coming from heavenly sources.
On another website, suffering vows are being offered to Catholics by making an agreement to suffer now and forever as "reparation for the pain of infidelities, assaults, dissensions and indignities caused to Holy Mother Church." The words of the vow read as follows: "I shall choose whichever course of action in thought, word, or deed that will provide greater self-mortification, including that which would prolong my life of suffering, and as approved by my spiritual father, for the greater fulfillment of my vow of consecration."5
In this situation, the person who makes the vow wants to invite spiritual powers from unknown entities to attack his health for the sole purpose of creating suffering, so that amends for sins committed against the Catholic Church can be offered up to God. Once the person makes these types of agreements he can only expect bad results. Even though God has assigned guardian angels to protect his beloved children from demonic attacks, God doesn't violate anyone's free will. If a person chooses to suffer, and makes an agreement with the spirit realm to suffer, then there are plenty of fallen angels who are willing to help that person fulfill his desires.
Unfortunately, when people make suffering vows, many of them have been struggling for a long time. Somewhere in the past they have made agreements with deceptive religious spirits by committing the sin of idolatry, and once these evil spirits acquire a foothold in a person's life, they start the slow and painful process of destroying their health, finances, and relationships. Instead of turning to God to be set free, it is easier for most people to believe that God is pleased with their sufferings, or that God has caused their sufferings and wants to use them for some unknown reason.
The process of setting people free from suffering vows usually requires long-term counseling and some deliverance work. Once an evil spirit has been invited into a person's life, that entity will not let the person go free until the vow is broken and the underlying emotional wounds have been healed.
Scripture Passages to Set the Captives Free
"After the people of that place recognized him, they sent word throughout the region and brought all who were sick to him, and begged him that they might touch even the fringe of his cloak; and all who touched it were healed." — Matthew 14:35–36
"That evening they brought to him many who were possessed with demons; and he cast out the spirits with a word, and cured all who were sick. This was to fulfill what had been spoken through the prophet Isaiah, 'He took our infirmities and bore our diseases.'" — Matthew 8:16–17
"God did extraordinary miracles through Paul, so that when the handkerchiefs or aprons that had touched his skin were brought to the sick, their diseases left them, and the evil spirits came out of them."
— Acts 19:11–12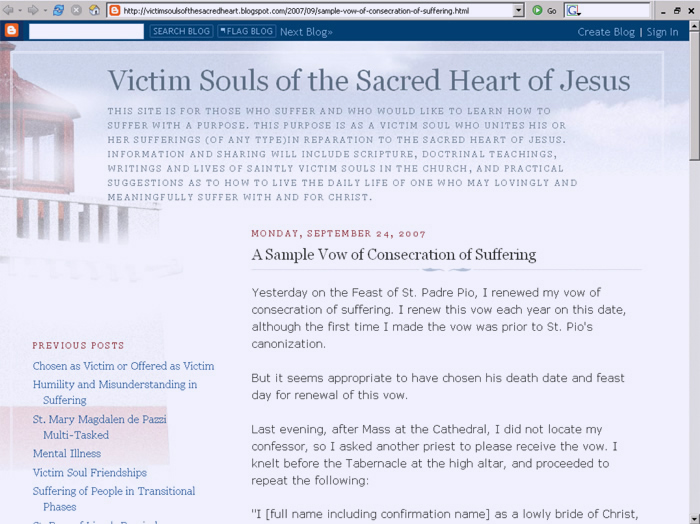 Notes
The Scripture quotations contained herein are from the New Revised Standard Version Bible: Catholic Edition copyright © 1993 and 1989 by the Division of Christian Education of the National Council of the Churches of Christ in the U.S.A. Used by permission. All rights reserved
Apparition Sites Review, "The Poem of the Man-God," Maria Valtorta: http://apparitionsites.com/poem-of-man-god-maria-valtorta.htm
Apparition Sites Review, "Our Lady of Naju," Julia Kim: http://apparitionsites.com/our-lady-naju-julia-kim.htm
Naju Mary website, "His Precious Blood": http://www.najumary.org/manife stations/blood.html
Apparition Sites Review, "Our Lady of Naju": http://apparitionsites.com/our-lady-naju-julia-kim.htm
Victim Souls of the Sacred Heart of Jesus: http://victimsoulsofthesacredheart.blogspot.com/2007/09/sample-vow-of-consecration-of-suffering.html
Victim Souls of the Sacred Heart of Jesus: http://victimsoulsofthesacredheart.blogspot.com/2007/09/sample-vow-of-consecration-of-suffering.html