La Santa Muerte
Spiritual Protection for Criminals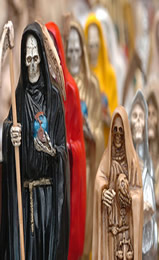 Now appearing in New York, Houston and Los Angeles—La Santa Muerte. This religious icon from Mexico, that resembles the Grim Reaper, is covered in a cape, carrying a scythe and a globe.

For decades, thousands of Mexico's poorest neighborhoods have prayed to Santa Muerte for life-saving miracles. Mexican authorities have also linked Santa Muerte's devotees to prostitution, drugs, kidnappings and homicides.

"According to a statement by Roman Catholic Archdiocese of Mexico City on November 3, 2008, popular devotion to the so-called 'Saint Death' is not compatible with the Catholic faith. It also noted that Saint Jude Thaddeus—known to Catholics worldwide as the intercessor for lost causes—is not the patron saint of criminals or drug traffickers."
The statement noted that "many people who commit crimes believe that St Jude is their patron saint," and added that "In no way would this saint be interceding before God in heaven for those who act contrary to the commandments of Christ, violating the precepts of Thou shalt not kill, Thou shalt not steal, Thou shalt not commit adultery."1
According to an article published by Time Magazine, "Nearly 40 percent of the Chicago Catholic archdiocese's 2.3 million members are Latino, most of them Mexican. Catholic officials here have certainly taken notice of Santa Muerte's growing popularity: the archdiocese has encouraged priests with large Mexican populations to address the so-called saint's rise from the pulpit."
"Just a few days ago, Father Marco Mercado, of the Good Shepherd Catholic Church in Little Village, visited a parishioner's home. As is common in Mexican residences, there was an altar with several Catholic saints. One statue, however, stood out: Santa Muerte. Father Mercado recalls telling the parishioner, 'This is Santeria—it's not good! It's not at all connected with the Catholic faith.'"
"Many of Good Shepherd's roughly 3,000 parishioners have ignored Father Mercado's calls to destroy their Santa Muerte statues, candles and prayer cards, fearing that doing so will bring sudden death to themselves or family members. Now, he tells parishioners to bring Santa Muerte artifacts to the church. 'I'll destroy it,' he says."2
Scripture Passages to Set the Captives Free
"Little children, keep yourselves from idols." — 1 John 5:21
"Wearing charms is also reprehensible. Spiritism often implies divination or magical practices; the Church for her part warns the faithful against it." — Catechism of the Catholic Church: 2117
"Do you not know that wrongdoers will not inherit the kingdom of God? Do not be deceived! Fornicators, idolaters, adulterers, male prostitutes, sodomites, thieves, the greedy, drunkards, revilers, robbers—none of these will inherit the kingdom of God." — 1 Corinthians 6:9–10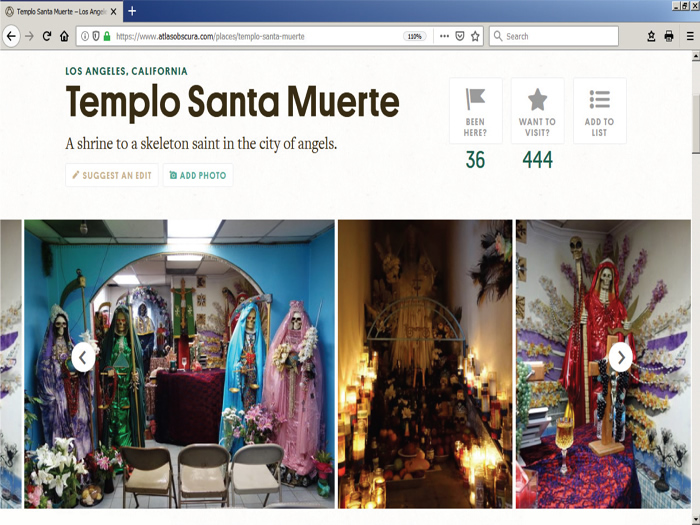 Notes
The Scripture quotations contained herein are from the New Revised Standard Version Bible: Catholic Edition copyright © 1993 and 1989 by the Division of Christian Education of the National Council of the Churches of Christ in the U.S.A. Used by permission. All rights reserved.
Excerpts from the English translation of the Catechism of the Catholic Church for use in the United States of America, © 1994, United States Catholic Conference, Inc.—Libreria Editrice Vaticana. English translation of the Catechism of the Catholic Church: Modifications from the Editio Typica copyright © 1997, United States Catholic Conference, Inc.—Libreria Editrice Vaticana. Used with permission.
"Santa Muerte is No Saint, Say Mexican Bishops" (Spero News, October 31, 2009): http://banderasnews.com/0811/edat-santamuerte.htm

"Santa Muerte: The New God in Town" (Time, October 16, 2007): http://www.time.com/time/nation/article/0,8599,1671984,00.html
"Santa Muerte / Holy Death Statues": https://www.wisdomproducts.com/category/620